Spirits
La Casa del Habano offers a s a splendid array of carefully selected beverages from a variety of origins, including rums, vodka, gins, whiskies, port.    Those spirits can be consumed in our members lounge or taken home to enjoy with the pleasure of a Habano.

 Rum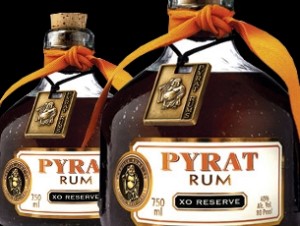 If you are searching for a truly unique rum, one unlike any other, look no further. Pyrat Rums are known for their distinct taste and superior quality and these aged rums are definitely something for the rum lover to explore.
The brand is owned by Patron Spirits and gets its name from the Old English word for 'pirate.' The stout bottle of the XO Reserve is also a tribute to this heritage. The rums are a blend of select pot still rums sourced throughout the Caribbean, many of which are around 15 years old, and some are created in a miraculously long-living wood still that has been running rum for 300 years. Once blended, the rum is matured further in French Limousin and toasted American oak barrels. This seems like an excessive amount of aging given the Caribbean climate which speeds aging, but that is likely the reason behind the extreme taste found in Pyrat.
What you can expect from any of the Pyrat rums is an ultra-smooth taste from beginning to end in Cask 1623 and a very fine mixing rum in XO Reserve. Pyrat also produces Pyrat Pistol, which is similar to the XO.
Pyrat Rum won Best Rum in the 2013 About.com Readers' Choice Awards.
Share this page: